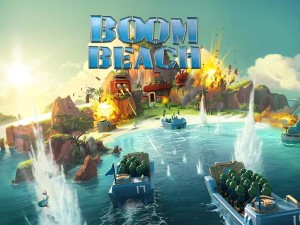 My friend Dave showed me his latest obsession: Boom Beach, which is a game from Supercell. They are the folks that made Clash of Clans and Hay Day, which are always in the top 10 charts on the App Store.
I'm usually not a big fan of war games, but Boom Beach was fun to play. It's very cartoonish (not gruesome at all) and loosely based on World War II.
The basic idea is you build up an island base in an archipelago and then try to conquer all the neighboring islands with an invading force that you assemble. Some of the islands are defended by computer-controlled opponents, but most are other players in the game. It's that competitive aspect of player vs. player that really keeps it interesting.
You can assemble your army with a wide variety of troops–everything from simple riflemen to powerful tanks. There are lots of different strategies that you can employ, and I got some great ideas at a site called Boom Beach Secrets. There are also lots of tips in the Supercell forums and plenty of other places on the Web.
I don't know if I'll play this game as much as Dave, but it's been fun for the past few days!